Our Massi family, based in Cossignano, cultivates the nearby fields of 'Azienda Agricola Fiorano'. At our azienda, we grow wine and olives using only organic farming methods.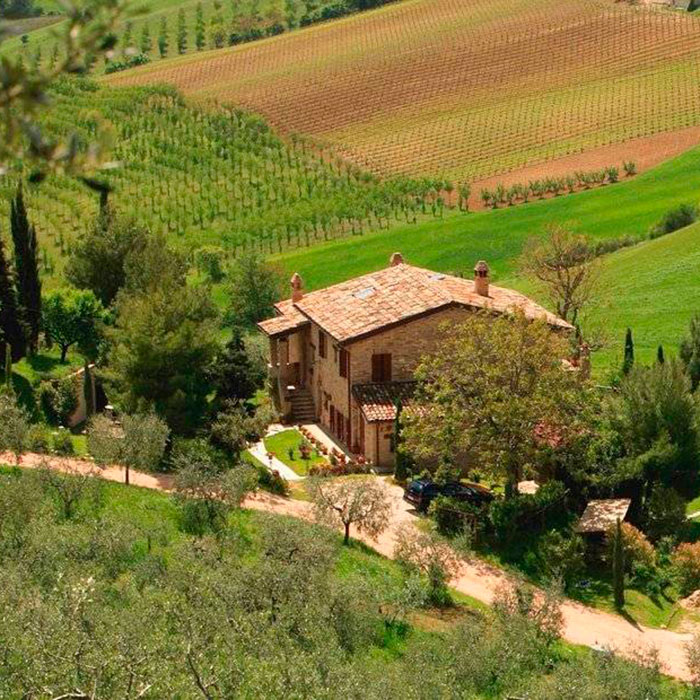 Our 16-hectare farm is located about two kilometers from the medieval village of Cossignano.
The sprawling, ancient 19th-century farmhouse lies idyllically nestled in a veritable picture-book landscape of gently rolling vineyards and olive groves.
The winery is run by the family Massi, who live in Cossignano. The founders of Azienda Agricola Fiorano, the couple Antonio Massi and Adriana Stracci, still work at the winery. Meanwhile, daughter Paola and son-in-law Paolo have taken over the management of the organic winery.
Since 2003, the farming methods of the Azienda Agricola Fiorano have been certified organic.
The wines of Azienda Agricola Fiorano, such as the "Donna Orgilla", the "Terre di Giobbe" or the " Ser Balduzio" have won several awards.


We will be happy to organize for you a wine tasting on our own nearby organic winery `Azienda Agricola Fiorano'.
Cossignano is one of only 13 municipalities that produce the famous `Rosso Piceno Superiore DOC' and `DOC Offida' wines.
You are welcome to make a wine tasting at our winery, `Azienda Agricola Fiorano`, with advance reservation (by phone or e-mail). You can look forward to our prestigious DOC wines, our extra virgin olive oil and small local specialties.
We also offer wine tastings, which include a guided tour through the vineyards, olive groves and wine cellar.
Book a wine tasting at our organic winery!